WELLNESS PROGRAMS
A detailed list of programs, services, and prices can be downloaded from the MORE INFO page, or send an email to benderyoga@aol.com. The following topics an be included as part of a general stress management program for an organization or group. Practice materials are provided (handouts, audio & video links).
Surviving & Thriving at Your Desk
Understand why prolonged sitting (in the car, at your desk, on the couch) can shorten your lifespan

Practice simple methods to interrupt sitting, including movement and gentle 'inconspicuous' stretching exercises

Learn breathing methods that balance the sympathetic & parasympathetic nervous systems

Get tips on how to implement technology to introduce movement, decrease stress & improve the quality of your life. Click here to download flyer describing program.
*******************************************
Coping with Stress
Are you feeling overwhelmed? Wish you could reduce your stress level, but aren't quite sure HOW?

In this workshop, you will learn work & lifestyle tips to reduce stress & tension. These are 'on-the-go' techniques can be practiced throughout the day to help you manage the stress response.

You will also learn the value of 'positive' stress and the importance of the stress response for our survival.

Click here to download a flyer.
*************************************************
Intro to Mindfulness-Based Stress Reduction
Learn basic mindfulness practices, including:
Simple, focused breathing
Basic seated meditation
Body awareness (the body scan meditation)
How to bring mindfulness to daily activities
Learn why Google, Procter & Gamble, Nike, and other big companies now offer mindfulness training to employees. Click here to download a flyer describing the workshop.

************************************************
Dealing with Distractions
Are you on notification overload? Wish you could stay focused but not sure how? In Dealing with Distractions, you will learn:
How to label your distractions (internal vs. external)

Strategies for reducing tech-related 'noise'

How to set boundaries with distracting people

Learn how to deal with internal distractions by caring for your body

Practice managing 'intrusive' thoughts. Click here to download a flyer describing the workshop.
********************************************
Learn bedtime routines that soothe and relax the body & mind. Includes instruction in progressive relaxation, guided imagery, & breathing practices to clam the nervous system. Yoga postures are selected that calm and relax the body.

************************************************************
Managing Your Energy & Mood
Learn simple breathing exercises and yoga postures to elevate your energy & improve your mood. Two sequences are included, one targets the anxious mind and tense body; the other sequence is designed for depression and aims to get you moving and feeling energized.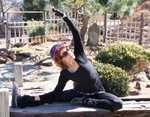 Yoga for Emotional Health
Stress often leads to anger, fear, or conflict. Sometimes we need to take a step back and hit th reset button. In this workshop you will learn practices designed to replace fear with courage, anger with love, and conflict with acceptance. Learning how to diffuse these emotions can improve health, well-being, longevity, and happiness.

Yoga for Postural Awareness & Healthy Joints

In this workshop, you will learn: (1) h

ow to assess your posture; (2) t

echniques to improve standing & seated posture; and (3) t

he Joint-Freeing Series, which is a series of movements that helps restore normal range of motion and mobility to all major joints in the body.